Multi Coax Series
Multi Coax Connectors & Cable Assemblies
Bo Jiang offered Multi Chennal product called "Multi Coax" series for high speed digital testing module. Bo-Jiang Technology provides a multi-channel series that could support the network transmission of 40Gbps and 100Gbps. The multi-channel family connectors and cable assemblies could apply in testing IC board for high speed and high frequency solution and board to board solution. The multi-channel family includes high density connectors that can be soldered to the PCB as well as high frequency, low loss, easy mating. The high density cable assemblies use the SMPM series RF/Microwave connectors with 2.92mm series RF/Microwave coaxial connectors and can used up to 40GHz, with 2.4mm series RF/Microwave coaxial connectors can be used up to 50GHz and with 1.85mm series RF/Microwave coaxial connectors can be used up to 67GHz.
Bo Jiang provides more effective, more economic solution in your requirement with Multi Coax series.
---
eatures
Multi Coax Channel
Frequency range to 67GHz
Matched Pair Cables delay time <0.5ps
Highest Density and Lowest Loss
With ultra-stable cable
Easy Mating
Application
Testing module of data Center system
QSFP testing module
High speed testing module
Product Information
 
2.92mm
2.4mm
1.85mm
Impendance
50

Ω

Frequency Range
DC~40 GHz
DC~50 GHZ
DC~67GHz
Return Loss
-15dB
-15dB
-15dB
Temperature Ragne
-40℃ ~ 125℃
-40℃ ~ 125℃

-40℃ ~ 125℃
Product Testing Report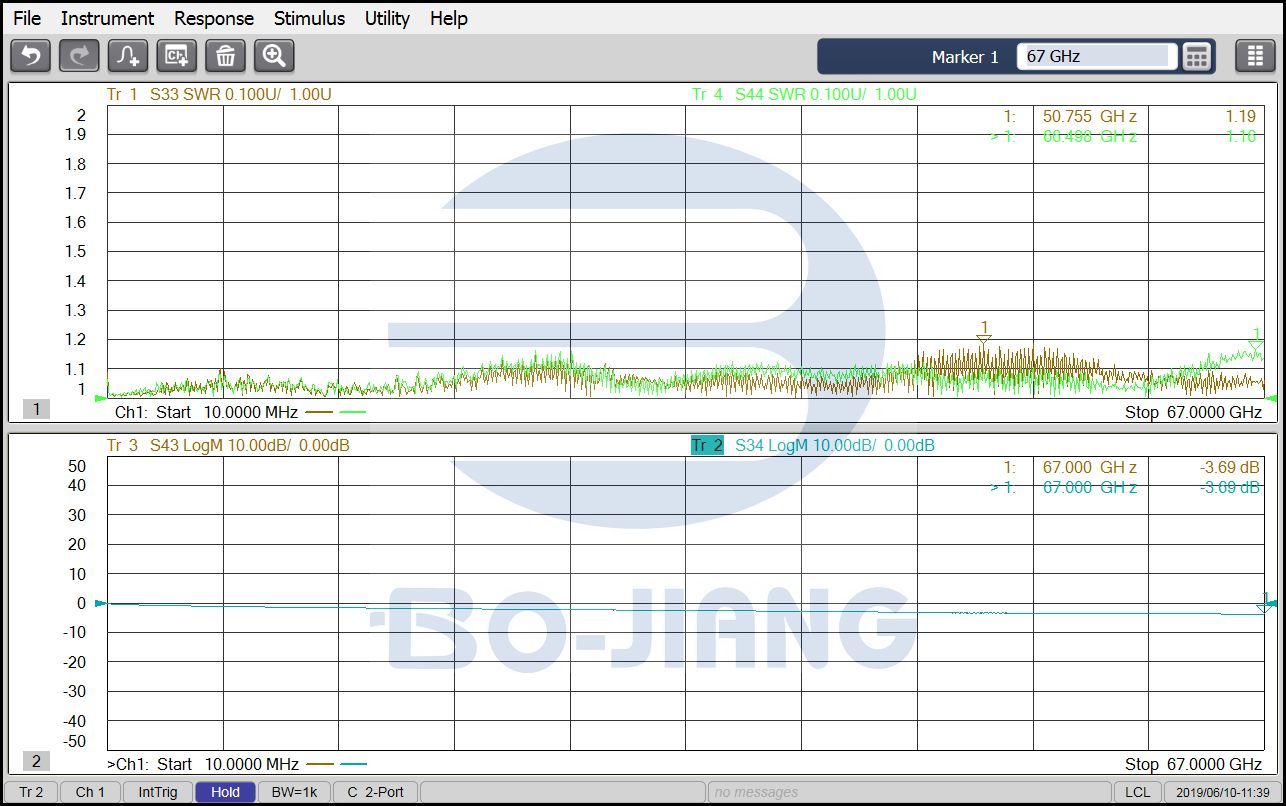 As signal transmission speeds increase, it is necessary to test multiple signals at once and the signal...
To meet the ever challenging technological requirements and increasing demands of for high...
Catalogue
Please download our catalogue for detail information.
Download
Contact Information
Tel: 886-6-356-2567 (Tainan office)
More Details
Multi Coax Series | SMA Coaxial Connector (End-Launch type) Manufacturer | Bo-Jiang
Located in Taiwan since 1992, Bo-Jiang has been a RF/microwave coaxial and 5G related connector products manufacturer. Their main products include, Multi Coax Series, SMB connectors, coaxial probes, 2.4mm - 2.92mm cable assemblies, high frequency connectors, plug to jack adaptors, connectors for audio and video systems, high frequency end launches and SMA directional couplers, which are ISO 9001, ISO 14001 and IECQ QC 080000 certified.
Bo-Jiang Tech with more than 26 years of designing, manufacturing and assembling in RF/Microwave Coaxial connectors and Cable Assembly. Bo Jiang provides complete series of 5G related products such as high performance phase matching cables and RF adaptors to support applications from 18GHz to 110GHz, and has been certified by ISO 9001, ISO 14001 and IECQ QC 080000 for many years, we have installed the ISO/IATF16949 systems to upgrade our company to a leading position..
Bo-Jiang has been providing customers with high quality 5G related connector series, NMD cable assemblies, RF adaptors, multi-coax connectors and cable assemblies, both with advanced technology and 26 years of experience, Bo-Jiang ensures each customer's demands are met.
View our quality products
ADAPTOR
,
BNC
,
BT43
,
Cable Terminator
,
CLAMP
,
CRIMP
,
FAKRA
,
FME
,
Jack to Jack
,
Jack to Plug
,
MCX
,
MMCX
,
PAL
,
PANEL MOUNT
,
PCB
,
Phase Match Cable
,
Plug to Jack
,
Plug to Plug
,
RCA
,
Reverse Polarity
,
SMA
,
SMC
,
SMP
,
SMPM
,
SMT
,
SOLDER
,
SSMB
,
SURGE ARRESTER
,
TERMINATOR
,
TNC
,
TRB
,
TWIST
,
UHF
and feel free to
Contact Us
.